March, 12 2018
ChildFund Cambodia supports KAFDOC with the Easy to Learn project which brings together seven schools in Chetr Borei District, in Kratie Province. Once a year, a ceremony is organised to reward the children who have the best reading skills. This year it set up on Saturday 10 March at the Khsar Primary School.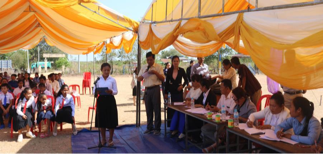 Each school presents three students (one from each level) who have been pre-selected before by their teachers, who organised their own tests. Then, th
e students were called one by one and they had to read an unknown text in front of a jury of professors who evaluated them according to several criteria. When the "Reading Test" was completed, the professors gathered to share their impression and to give the final marks.
After a break, the results fell and the distribution of the prizes started. Indeed, there were three different packages: firstly, a bike, with a backpack and a kit which contains toothpaste, toothbrush, pens, a ruler…, secondly, a backpack with the kid and finally, the backpack. Thus, every child was rewarded. The top three were three girls from the same school, then three other students got the second prize and the rest of the children received a backpack.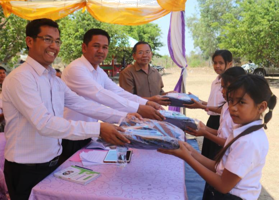 Meng Kimhouhoy, 10 (grade 4), Teang Vannary, 11 (grade 5), Horn Sievmei 11 (grade 6) from Talous School, were very happy to pass successfully the reading test. Both Vannary and Sievmei want to be a teacher when they get older and Kimhouhoy wants to be a doctor, so they were proud of themselves. Their parents were present and they too were proud of their daughters. They are going to push them to study and they are glad that KAFDOC supports the ceremony by offering such materials and bikes.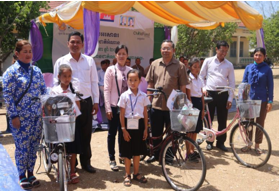 Zeng Soknea is a teacher in the Talous school and he was very happy that three of his students won the first prize. He thinks that the ceremony brings hope in the future and it motivates students to study hard to become what they want to be. Furthermore, it simply encourages not only students, but the whole educational team to read. He is grateful that KAFDOC is part of the project because it is thanks to them that they are able to organise a ceremony at a such level, that is to say seven schools together (with three children each). Indeed, without their support it would have been impossible and they would have been to settle at a school level only.