"Governance" is the process of decision-making and the process by which decisions are implemented (or not implemented). "Good Governance" is about the best possible process for making those decisions.
KAFDOC works in order to improve governance and ensure that it is participatory, consensus oriented, accountable, transparent, responsive, effective and efficient, equitable and inclusive. Its aim is to make sure that the views of minorities are taken into account, that corruption is minimized, and that the voices of the most vulnerable in society are heard in decision-making. Therefore, governance can be responsive to the present and future needs of the communities.
Objectives :
Improve citizen's opportunities of involvement, through decision making, in social activities related to livelihood
Ameliorate citizen's quality of life, social democracy and accountability, and good governance ;
Ensure that communities' development is sustainable and local service provided is efficient, of good quality and transparent.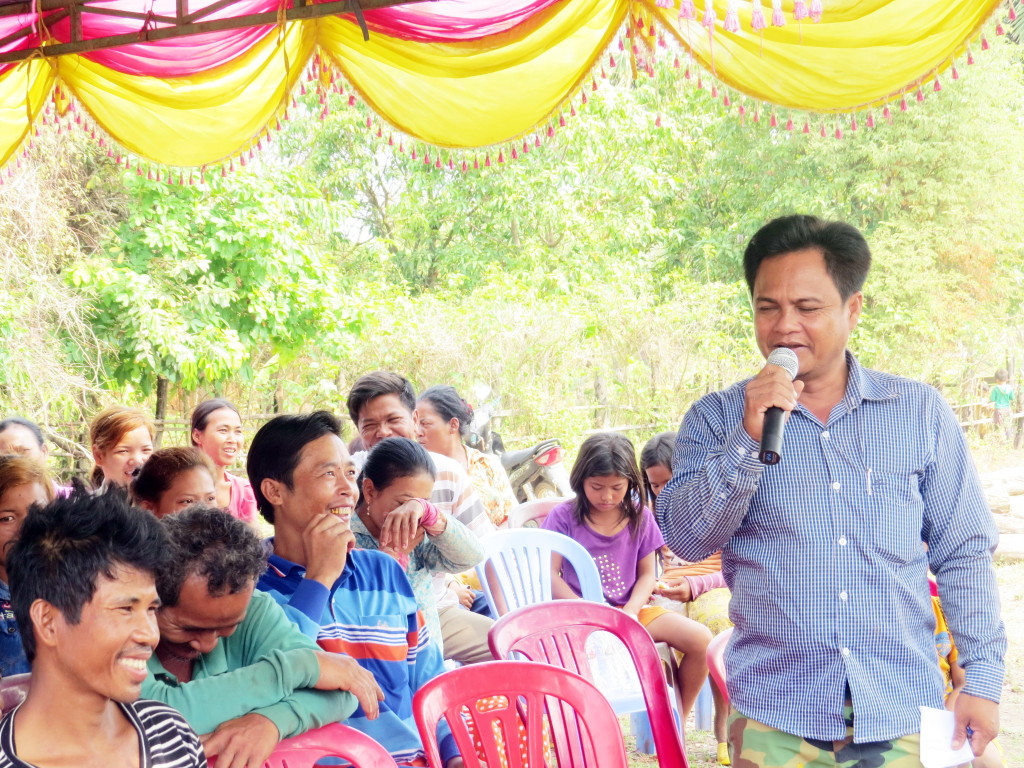 Minority Voice for Good Governance (MVGG) project
Examples of activities:
Project launching workshop at the province level
In 2012, KAFDOC-CED held a project launching workshop in Kratie provincial town to present the project goal, objectives, processes, and to mobilize supports from key participants for the project implementation. There were 14 NGO staff (3 female), and 39 governmental officials (10 female) composed of commune councils (CC), district/municipal governors, district/municipal councils (DC), provincial governor, provincial public administration, provincial department of education, provincial department of health, provincial department of women affair, provincial department of information, and one window service office. The total participant was 53 (13 female).
2. Commune researcher team (CRT) selection meeting
KAFDOC-CED's staffs, in cooperation with CCs, conducted CRT selection meeting in 45 villages of 15 target communes in 4 districts/municipalities in Kratie province (3 villages per commune). CCs in each commune asked the village chief to invite citizens to the meeting. All meetings were held at a place accessible to the majority of citizens. In the meeting one potential representative was selected based on criteria set in the project launching workshop. The CRTs were selected by the participants in free and fair election. The people elected one person among 3 or 4 volunteer candidates. 45 elected CRT members (17 female) are grassroots people, CBO (Community Based Organizations) members and youths.
As citizen representative in community, CRT plays key roles in engaging citizens with local authorities through dissemination, giving feedback, awareness raising, collection of information, and sharing information to citizens after attending the training on various topics: public forum, reflection workshop, meeting with relevant stakeholders, and especially the result of commune council monthly meeting. CRTs were also in charge of integrating people's needs in Commune Investment Plan (CIP) and District Investment Plan (DIP) in 2012. In addition, CRTs helped to raise awareness of the citizens at the local level on the importance of the people's engagement to improve commune service delivery, and participate in public forums. Consequently, the citizen has been confident in giving feedback to service providers in the commune public forums and holding local authority accountable, therefore following the governmental strategic plan for sub-national democratic development.
3. CRT & CC training on survey techniques, commune councils' roles and functions, … and set up questionnaires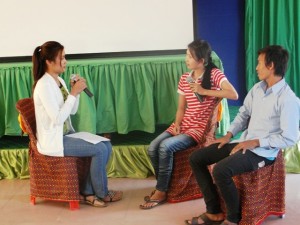 This training was held in Kratie municipality by KAFDOC and CED with the cooperation of the Planning and Investment Office of the provincial authority. The training provided awareness on good governance, decentralization and de-concentration to 72 participants (22 females) to promote good governance and to help grass root people to increase their awareness on the importance of data dissemination.
4. Citizens engagement in commune investment plan (CIP)
Fifteen meetings were organized in total to discuss Commune Investment Plans implemented by CCs and 45 CRTs within 15 communes, 45 villages, and with 1,525 participants (590 women). People from 3 villages gathered to assist to one orientation meeting (Russey Keo commune), which then organized meetings in each village for specific purpose.
After the CIP promotion, the community people (project's beneficiaries) and CRTs had a good understanding of CIP/CDP, and of the roles and functions of the CC. They received a great amount of useful information relating to commune cash flow within the Commune Development Plan (CDP). They requested the Commune Council to include in the Commune Investment Plan their needs or concerns, especially the lack of village meetings to allow grassroots people to participate in development activities.
5. Training CRTs on social accountability, good governance and mediation skills
In March 2012, in Kratie province, a training course on Social Accountability, Good Governance and Mediation Skills was facilitated by KAFDOC-CED and an expert from Planning and Investment Office (PIO).
The training's purpose was to strengthen the social conceptual framework and processing tools, as a model of procedure to disseminate awareness and experiences to grassroots people in communities.
6. Exchange visit (study tour)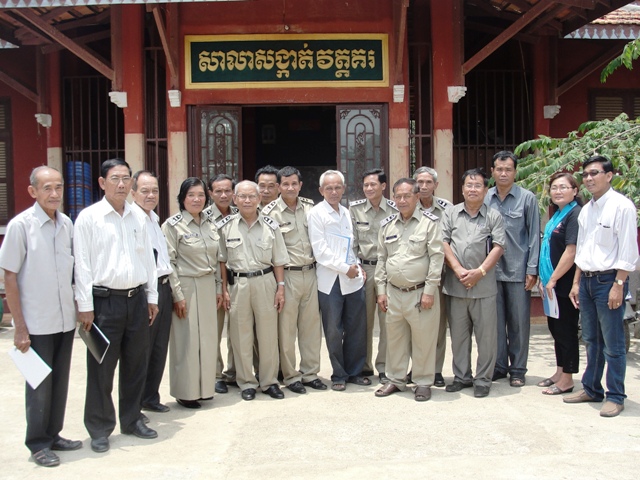 The exchange visit was organized on April 3-6, 2012 to AMARA organization in Battambang.
7 CRT (3 female), 7 CCs, 4 district councilors, and 6 members of staff (1 female) of KAFDOC- CED visited Sankat Toul Ta Ek, Watkor, Phnom Sampov and HRND organization and Kan Traing commune in Siem Reap province. The participants learned financial management, Monitoring & Evaluation basics, delegation of CCs' function and duties, accountability box, commune problem resolution, anti-corruption promotion, community people counseling, commune security measures, domestic violence prevention and CCs' experience in inviting people to commune meeting, setting commune regulation.
7. CRC survey on commune service delivery (data collection)
In June 2012, data collection activity was conducted in 45 villages by 45 CRTs, using door to door method. CRTs were the key actor in collecting information on Commune Public Administration Services by using questionnaires developed by KAFDOC-CED project staff members. This activity aims to look for the strengths and weaknesses of the commune council/sangkat's activities, and satisfies the need of assessment requested by citizen in the target areas.
8. Commune dialogue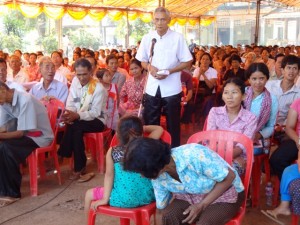 In August 2012, after the data collection and citizen quarterly meeting, 15 commune dialogues were organized. The first dialogue was held in Russey Keo commune and observed by all project staff members who were involved in organizing the next dialogues in other communes. The report of data collection on commune administration service was provided to each participants and guest speakers in the commune dialogue. One representative of 3 CRTs presented their reports to the participants. There were 3 guest speakers – one district governor, one Public Administration Officials (PAO) and one commune council leader – in each dialogue who played the important role of answering all questions stated in the reports and personally raised by participants. As a result, a total of 1,496 participants (663 female) attended all 15 commune dialogues. This figure includes 296 people more than the expected number.
9. Citizens quarterly meeting
In July 2012, KAFDOC-CED's project conducted 45 village meetings in 45 target villages with a total of 2345 citizens (1107 females) who were invited to these meetings. They received information about the gaps in the various commune administration service. Furthermore, they had a chance to ask some more information, where they noticed a lack of data, and which are very necessary for CC administrative public service improvement. Their voices were displayed into a consolidated record and provided to all participants at the beginning of the dialogues.
10. Provincial dialogue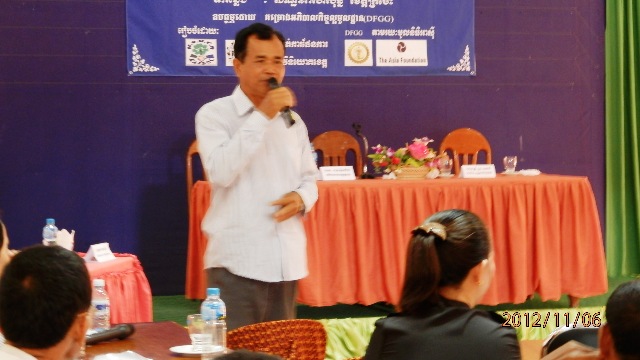 On November 2012, in Kratie province, a provincial dialogue was organized, in which local authorities and community representatives participated to discuss and resolve some issues raised by citizens to local authorities. This one-day event was chaired by Mr. Cheak Meng Heang, deputy provincial governor of Kratie, Mr. Kry sopheap, program officer of The Asia Foundation and Ms. Ngoun Sophany, executive director of KAFDOC; and jointly organized by KAFDOC and CED and Provincial Planning and Investment Office (PPIO).
A lot of issues were raised to the guest speakers during the workshop, such as:
Ministry of Interior does not approve commune service fee within all communes that normally causes citizen to pay high price to CC.
There are many micro finances (MF) institutions in the province from which poor people usually borrow the money; people must get certification letters from local authorities for the loan, which become a big burden as people must pay money to get this letter. This is one issue among many others of which the local authorities have to take care. Citizens were upset because it takes long time for the CC to consider their certification letters.
CC's income and expenditure management is not transparent and accountable.
The CC's administration services is very slow, if the citizens do not give a bribe to the officials.
etc.
The one day-provincial workshop attended by high ranking local governor, district councils, district governors and commune council members got a remarkable result through active responses to all participants' concerns and questions, including CCs and CRTs.
11. Semester CRT reflection meeting at provincial level
There were 2 provincial level reflection meetings. The first meeting was held on November 22, 2012 and the second one was held on December 27, 2012 with a total of 121 participants (31 female).The guest speakers were vice-provincial governor – Mr. Va Thon, district councils – Mr. Thung Hul, Mr. Pech Phan, and Mr. Pen Ratha, vice PPIO and co-executive director of KAFDOC and CED. The main agendas were:
1) Quarterly and final results of MVGG project,
2) CC and CRT's declaration of change of behaviors and filling the gaps in the provision of some commune administration services
3) Groups discussion to improve commune administration services,
4) Open mind discussion in plenary for participants to express their commitment or willing for the next phase of project activities if the project gets a second phase.