Through the implementation of its many activities, KAFDOC has developed strategies to work effectively with its beneficiaries. We work hand in hand with local communities in a participatory approach, to make sustainable changes, while respecting the environment and applying a right-based approach.
1.Participatory approach
KAFDOC's projects are developed in a participatory manner through key stakeholders' consultation at sub-national level such as the District Office of Education, the Provincial Office of Education, Commune Councils, Schools, parents and student councils. KAFDOC's Management Team extensively discuss the targeted concerns with all stakeholders through audit forums for examples before starting a project.
KAFDOC then involves every beneficiary through public forums, establishment of student councils, women's councils etc. Citizens feel more empowered and are confident to participate in project activities and discuss their key concerns with officials at community forums.
Read more about good governance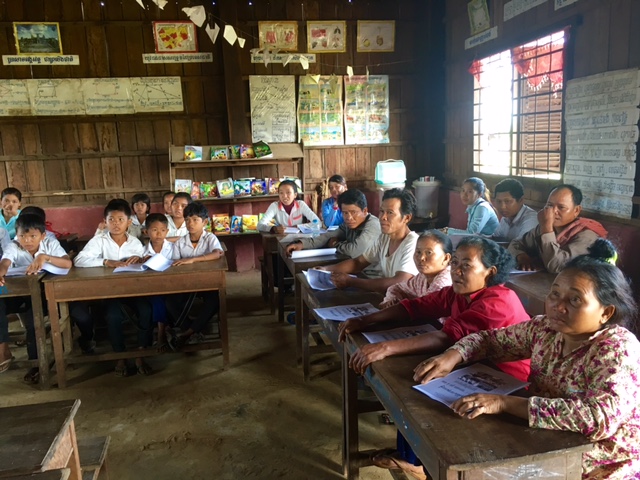 2. Sustainability
To ensure the projects sustainability, KAFDOC undertakes the following strategies :
Training and workshop : KAFDOC develops training and workshops in which the beneficiaries can participate in all stages of the project implementation under the instruction of trainers or KAFDOC's staff. This provides the beneficiaries with a sense of leadership and ownership.
Establishment and involvement of Community-based organizations : A community based organization is the representative of a community or a significant segment of a community, and is engaged in meeting human, educational, environmental, or public safety community needs. CBOs undertake sustainable livelihood activities, impart skills and share knowledge to all the group members. It allows them to access to Natural Resource Management funding, to communicate their needs and concerns to local authorities and to participate to the commune development plan. KAFDOC works closely with CBOs.
Establishment of Saving Groups : KAFDOC staff conducts trainings to the CBOs and helps to establish Saving Groups. KAFDOC promotes Saving Group and model farmers in order to increase income of poor parents. Saving Groups offer loans to villagers to help them develop business activities and keep the money moving within the community.
Improving living conditions : results of KAFDOC's previous activities such as clean water supply, establishment of agricultural product groups (pomelo, soya bean, fish, vegetable groups, rice banks), homestays etc. ensure a sustainable way of raising incomes and help breaking the cycle of poverty.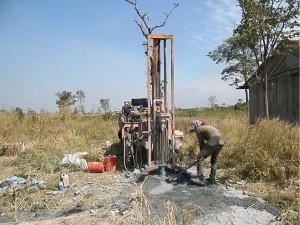 3. Application of the principles of the Convention on the Rights of the Child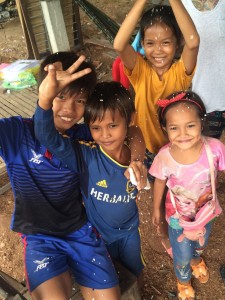 All KAFDOC's projects apply a Rights Based Approach to make sure that all children's rights are respected and developed through awareness raising for parents, children especially student councils who are responsible for the continuing dissemination to other children in their schools, SSC, Self Help Group (SHG), and local authorities, particularly Community Committees for Women and Children (CCWC).
4. Environmental impact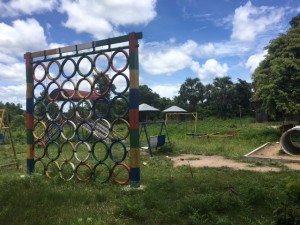 KAFDOC's project ensure they do not have a negative impacts on the environment. All of education projects   promote a better school environment by encouraging the community and local authorities to to put up  proper fencing and gates, prepare gardens and plant trees for shade, as well as maintaining and ensuring there is a  clean environment inside the school.  We also encourage planting and organisation of  the biodiversity gardens  using a variety of plants for students to study. The projects promote correct  disposal of rubbish and good maintenance, they promote school hygiene to a sub-committee  of student councils, and arrange a proper  rubbish storage with selective sorting for recycling and for sale. 

5. Network and partnerships
KAFDOC is the chair of the Kratie provincial Education Sector Working Group (KESWG) that coordinates all NGOs which working in education in Kratie province. We are also  vice chair of the Provincial Joint Technical Working Group (P-JTWG) for  provincial education that assists to the  coordination of all relevant institutions of Kratie province on Education, and a member of NGO Education Partnership (NEP), Cambodia Children and Youth Movement for Child Rights (CCYMCR), and Cambodian Humanitarian Forum (CHF) which works on disaster management.
Therefore, KAFDOC has built a good relationships with many education networks both at national and sub-national level in order to share concerns and address issues on external factors such as: school enrolment campaigns, school statistics, data collection, counterpart cooperation, DSA support for cooperation, communication, contribution, health in schools,…etc.  On behalf of KESWG or P-JTWG, KAFDOC has been empowered to raise issues to all relevant provincial department  the province to take action at sub-national level. If a problem can't be addressed at sub-national level, we escalate to  the national level with NEP meetings for further advocacy.