My name is Mr. Yuth and in January 2016 I founded the Dolphin School of English (DSE) in Kratie, Cambodia. The aim of this project is to provide free English and Computer classes to underprivileged and vulnerable children and youth from surrounding villages. We are the only school in the Kratie area providing free English classes with native English speakers, as well as Khmer teachers. Our students attend public school during the day where English classes are sometimes not offered, or are very basic, and come to our school in their free time to learn this crucial language.
is more than just a school:
It is a meeting point and playground for many children, a safe place for them to be together in a welcoming and supportive environment.
We also teach at different locations in the Kratie area when we have enough volunteers, to help as many young people as possible.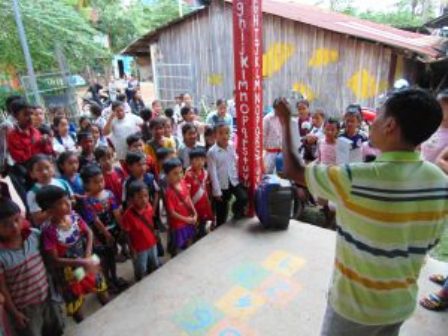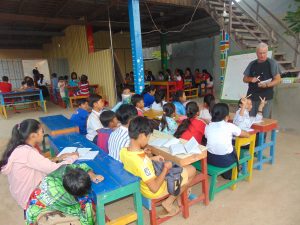 Volunteers from all over the world
Volunteers from all over the world come year round to help keep this project alive by teaching at Dolphin School. Although some volunteers do provide school materials and make donations,  Dolphin School relies on the generosity of people like you to continue and improve. We need to make renovations to improve the structure of the school, and buy more desks for our ever growing number of students. The majority of our students come from poor families and it is a struggle for them to provide school supplies, so we want always to have books and pens available for those who arrive without them.
Thanks to the help and generosity of donors, fundraisers and volunteers, we have been able to help hundreds of young people since the school opened. There is a young generation of Cambodians that are relying on us, please will you help?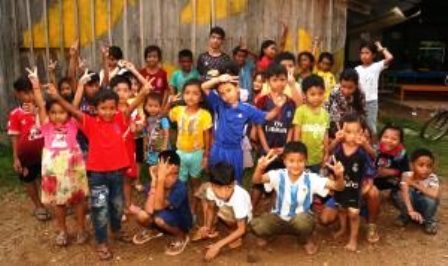 Volunteers can help us in the following ways: 
Come and Teach
Experience is valued but is not essential for teaching at our school. Our students are aged from 5 to 18 years.


Sponsor our School                 For US$6 per month, you can help to provide hot meals, and educational equipment for our poorest students.
Fundraise
Get together with your friends and colleagues to raise money to help improve the future for these disadvantaged young people, and break the cycle of poverty that they are living in.
DISCOVER THE SCHOOL IN THIS GREAT VIDEO
& FOLLOW US ON FACEBOOK and INSTAGRAM !