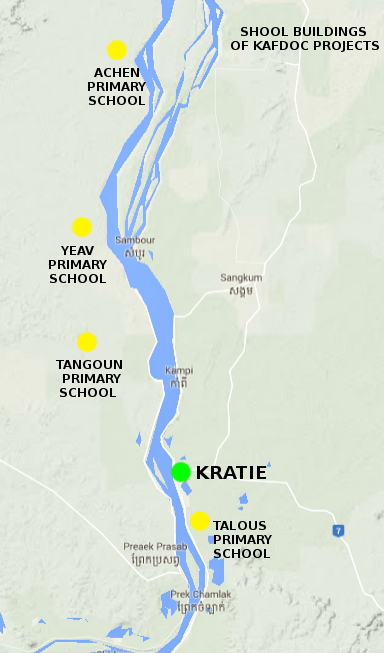 IMPROVING THE QUALITY OF PRIMARY EDUCATION PROJECT (IQPEP)
PROJECT GOAL: To contribute to the implementation of the Royal Government of Cambodia's policy on Education For All.
PROJECT OBJECTIVE: To strengthen and sustain the implementation of the Child Friendly School Program in the target districts.
The project will continue to be implemented in 13 schools, 21 villages and 4 annex villages, 8 communes (KohChreng, BosLeav, Dar, Kantuot, ThmaAndaeuk, Thmei, Kampong Cham, and Vattanak communes), in Chetr Borei and Sambour districts, Kratie Province, Cambodia.
Direct Beneficiaries:
Total of 3640 ( Female:1800) direct beneficiaries
3,132 Children (Female: 1,556) from 0-17 years old
82 Teachers (Female: 52)
13 School Directors (Female: 2)
111 School Support Committee members (Female: 29)
Provincial Department of Education (PDoE) and 2 District Office of Education (DOE)
8 members of Commune Committee for Women and Children (CCWC) (All Female)
30 model farmer familie
100 Income Generation members (5 groups)
Indirect Beneficiaries 21,661
Total of 21 661 (Female: 10 355) indirect beneficiaries
5,190 households with 26,083 (Female: 11,998) members who are living in the 21 villages and 4 annex villages within 8 communes, 2 districts where the project target schools are located.
97 (Female: 57) teachers and 32 (Female: 3) schools directors from other 8 target school clusters who will be attending the regular Thursday Technical Meetings and Demonstration teaching activities.
53 (Female:1) village chiefs who are managing all families in the villages. Village Chiefs are the key persons who are responsible for coming up with interventions against domestic violence. They are members of Commune Child Protection Network (CCPN), and they manage all data pertaining to the village.
8 commune police chiefs, who are also members of CCPN and are playing an important role in keeping all the people in the whole commune safe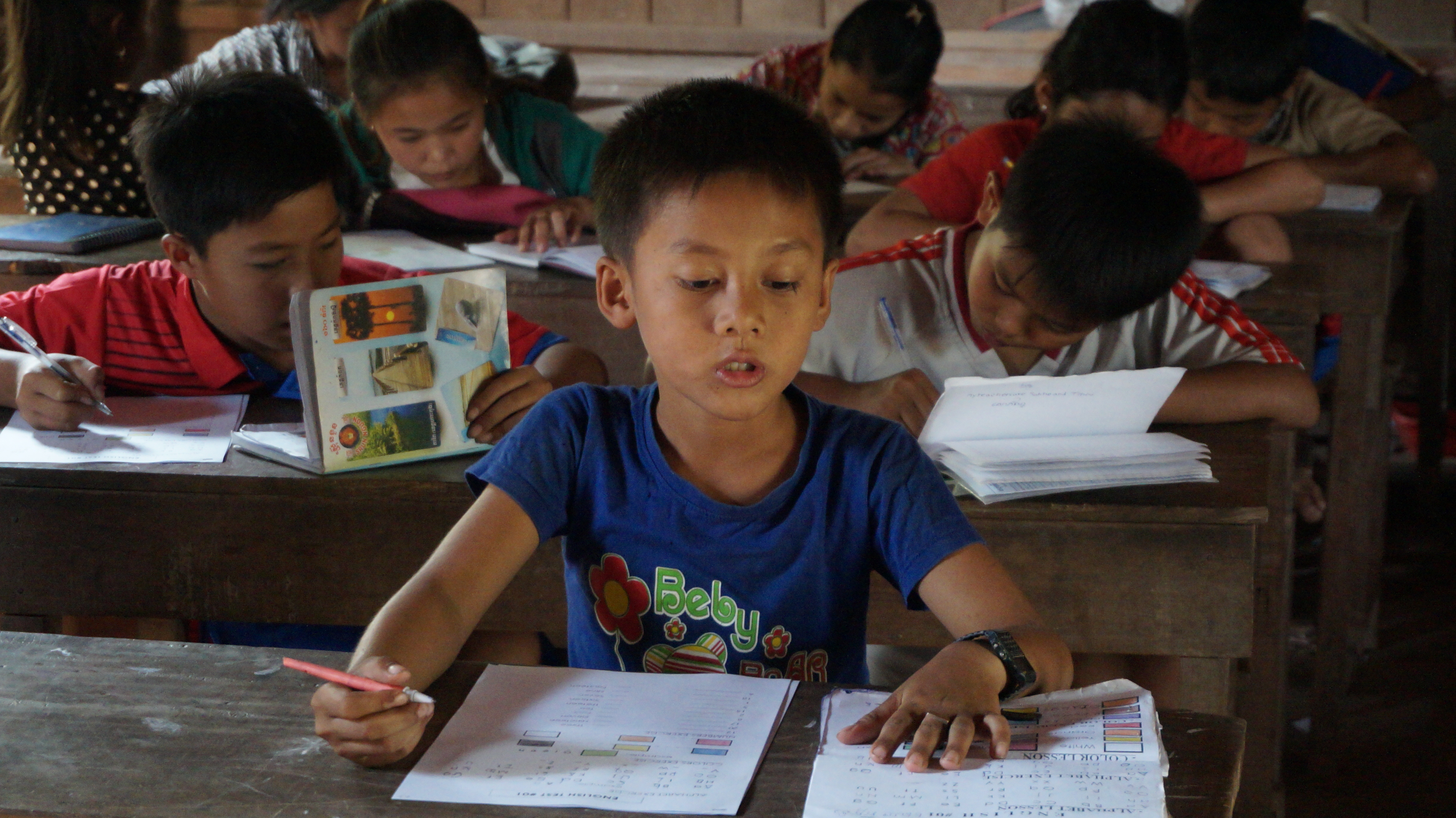 BACKGROUND:
The right to basic education is guaranteed to every child in the whole country by the government of Cambodia. The Education system in Cambodia is not really fit for the purpose of preparing children to lead fulfilled lives with their intellectual and emotional capacities engaged in the pursuit of knowledge. The resources devoted by the government to the Education budget are among the lowest in the region. Also, NGO partners' investment in Kratie Province on improving the quality of basic education in rural areas is still limited.
The main problems in the project target areas' (Chetr Borei and Sambour Districts) educational system include:
Low quality of learning;
Unqualified teachers;
Insensitivity of the school systems regarding children with special needs;
Weak relationship between schools and local authorities as well as School Supporting Committee (SSC),
Almost no Commune Child Protection Network,
Lack of material for teaching;
No libraries for children to get a better access to read, no playground for children and classroom decoration. Hence children have not shown much interest in learning;
The main causes of drop-out rates are: 1- teachers' lack of interest in teaching and their absence; 2- the fact that children's parents/guardians have limited knowledge of child rights and the value of education; and 3- limited school resources.
The 2016-2018 IQPEP project is designed to work in 3 existing target primary schools in Sambour District, Kratie Province. The project had already been implemented in these schools for a short period of 18 months (from 1st October 2015 to 30th March 2016),and in 10 other target schools in ChetrBorei district over a longer period of 4 years (April 2012 to March 2016). Over the short period, the 3 target schools in Sambour district couldn't be sustainable for Child Friendly School (CFS) – a concept developed by UNICEF which aims to develop a learning environment in which children are motivated and able to learn – implementation. Indeed all communities, schools, local authorities, and POE (Provincial Office of Education) have just started to get involved with our project. Therefore, to reach the standards of new CFS in Sambour District, there's a need for the current project to be supported before phasing out from these schools.
During the project implementation in Sambour district we found that there were 14094 (F:6947) children aged 6-14, but only 81.47% (equal to 11482 (F: 5580)) were enrolled in primary school (grade 1-6) and 916 (F: 478) were enrolled in lower secondary school.
In school year 2015-2016, in Sambour district, the outcome is an overall repetition rate of 10.17% (equal to 1191 children), dropout rate of 7.87% (equal to 921 children). These numbers are still unacceptably high and it means that nearly one student in 10 repeats or leaves school each year. For girls, the repetition rates are 8.68 % and dropout rate 6.29%.
The IQPE will attempt to work in cooperation with POE and DOE officials, School Support Committee (SSC), local authorities, Student Councils, and KAFDOC staff to address the situation and problems.
Promote POE and DOE's regular inspection/monitoring on the effectiveness of teaching and learning, especially on school good governance,
Support and encourage teachers/school directors to use teaching and learning materials as well as develop quality Lesson Plans,
Promote and support the community, SSCs, and local authorities' involvement in school activities through school maintenance activities, student families' monitoring their children learning, participation in preparing school development plan, and integrate school development plan into the Commune Investment Plan (CIP),
Promote and support local authorities to be actively involved in increasing the Saving Group and model farmers in order to increase poor parents' income.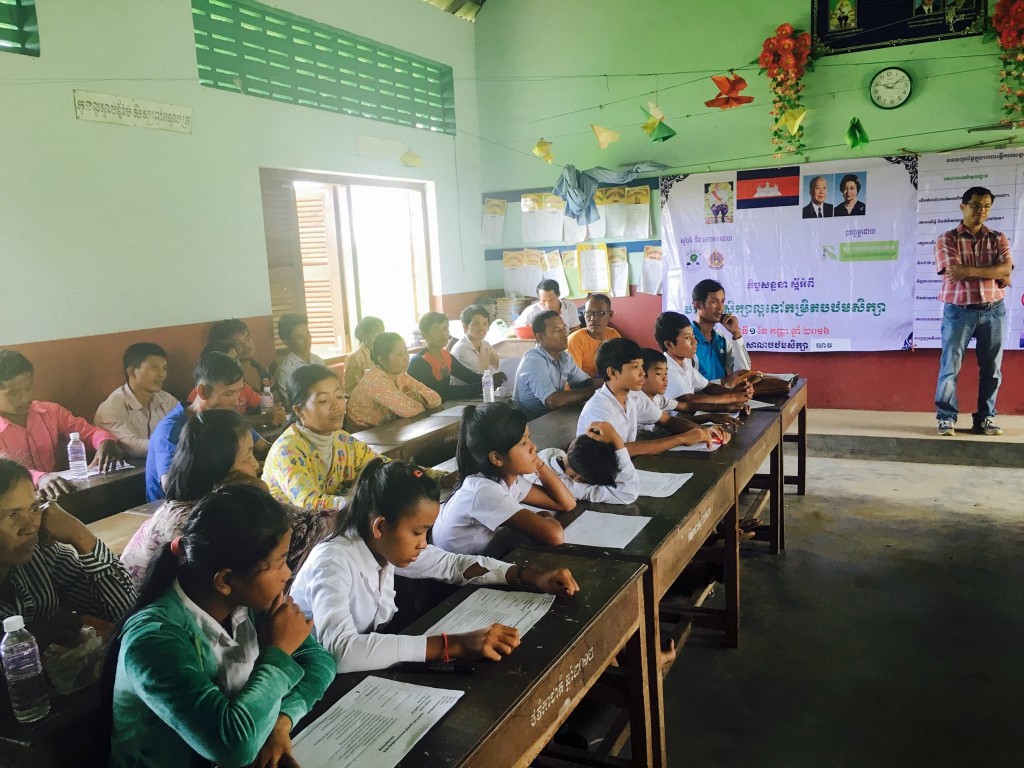 RESULTS 1: Innovative joyful and active teaching and learning techniques are being practiced in all target schools
RESULTS 2: Government Educational institutions, as well as other education stakeholders, are committed in raising the quality of education in the target district
RESULTS 3: A dynamic and supportive relationship exists between school and community 
RESULTS 4: Children are exercising their Rights in harnessing their potentials
RESULTS 5: Empowered communities that are able to support their children's education
ENTITY'S EXPERIENCE IN THE GEOGRAPHIC AREA OF INTERVENTION
KAFDOC has over 10 years of experience, working in the education sector in Cambodia since 2002. KAFDOC has been working directly and indirectly through partnership collaboration with relevant stakeholders, government institutions, partners, donors and relevant local authorities and community's members. Below are some key experiences and staff members with technical expertise and skills related to education sector.
KAFDOC staff who have been working in Education sector have experience in teaching students in primary schools and lower secondary schools for many years, and at least 8 years in state school, experience in project management, and implementation of CFS for years.
2002 – 2013: KAFDOC developed the Child Sponsorship (CS) program: 307 children were sponsored by european families by sending drawings and pictures of themselves. This project covered 17 primary schools, 5 lower secondary schools, 5 communes, 19 villages in Prek Prasab and Chetr Borei Districts and was supported by Action Aid Cambodia (AAC).
2007- 2013: 15 primary schools were covered by KAFDOC's Disaster Risk Reduction (DRR) project, which focused on Child Safe Education and School Competition Activities, covering 3 communes in Prek Prasab District, supported by the European Commission's Humanitarian Aid and Civil Protection department (ECHO) and its Disaster Preparedness project (DIPECHO) through Action Aid Cambodia.
2008-2011: 828 children, 15 schools, 4 communes and 17 villages in Chetr Borei District benefitted from a project called "Improving the Quality of Life for Orphan and Vulnerable Children (OVC)". The projects' main focus was on organizing Child Club activities, supporting schools and libraries with school materials, enhancing capacities of Child Peer Educators, convincing children representatives to join Commune Monthly and Quarterly Meetings, and improving children's access to health services. The project was supported by Save the Children Korea and Save the Children Australia.
April 2012- March 2016 : KAFDOC has partnered with Educo Cambodia to implement the many activities of the project called Improving the Quality of Primary Education Project (IQPEP), covering 13 primary schools in 21 villages, and 8 communes in Chetr Borei and Sambour Districts. The project has provided support to 3424 children, and 96 teachers. This project mainly carried out activities pertinent to the framework of CFS:
organizing SSCs and supporting meetings;
building teachers & school directors' capacity ;
establishing recycled playgrounds;
supporting teachers in developing teaching materials;
installing water containers; providing materials for cleaning school grounds;
encouraging student representatives to attend the meetings with Commune councils;
establishing school libraries. April 2013 to June 2014, Child Wise Cambodia has partnered with Educo Cambodia to build the capacity of KAFDOC staff on Child Rights and Protection for more than 1 year in order to develop the Child Protection Policy in accordance with the standards of Child Safe Organization (CSO).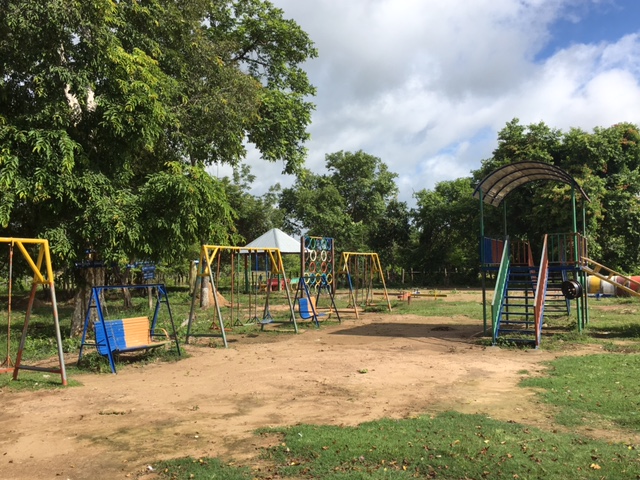 May 2016 to date: KAFDOC is implementing an aspect of the same project in CheitrBorei district within 11 target primary schools, in partnership with ChildFund Cambodia. This project is to enhance participation of local authorities and community to ensure for a sustainable CFS implementation.
Since 2015 to now, KAFDOC has been a chairman of Kratie Education Sector Working Group (KESWG) regrouping 14 NGOs which are working in the Education sector in Kratie province, and also a vice chair of the Joint Technical Working Group (JTWG) which is working with all relevant institutions at a sub-national level in order to address key issues regarding Education in Kratie province, especially from NGOs. The two groups are working for advocacy.
KAFDOC is also a member of NGO Education Partnership (NEP), a national Network of education that is advocating for policy level. Also KAFDOC is a member of Cambodia Children and Young People Movement for Child Right (CCYMCR), a national network which works for the promotion of child rights in Cambodia.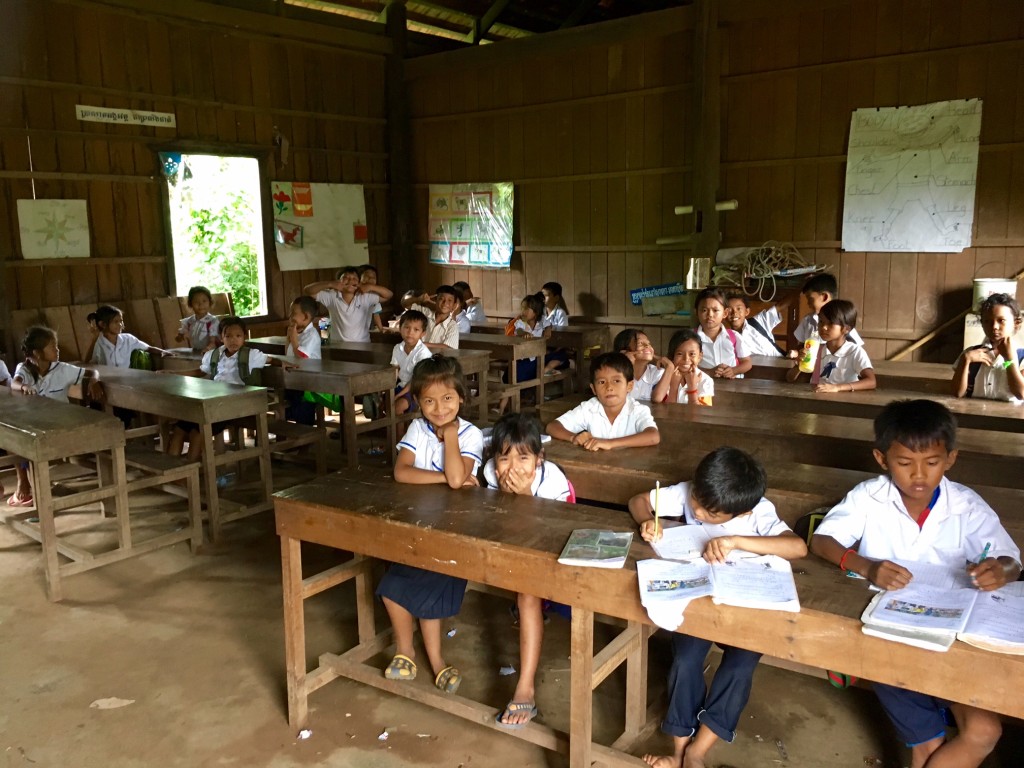 [table id=2 /]